Blocked Drains Castle Hill Clearing Services
Water Jetting Drain Cleaning
CCTV cameras are vital for visually inspecting the interiors of your pipes without needing to dig up your land, saving money and time. We can use them on all your pipes and drains, including stormwater and sewer lines to look for blockages, nasty odours and the presence of tree roots. They're also versatile enough to get into junctions and bends to help us accurately pinpoint the source of a blockage and provide the quickest and safest method to diagnose any drain issues. GSM Plumbing has used CCTV cameras to help thousands of homes and businesses in Castle Hill and Sydney
Water Jetting Drain Cleaning
Water jetters are easy to use and versatile for cleaning drains. They can be used simultaneously with CCTV cameras to identify the source of the blockage and clean it using high pressure, resulting in a much more effective drain cleaning job. Water jetters are extremely powerful, which is why they require a trained professional like GSM Plumbing. A large cable with a reach of close to 100 metres is inserted into the drain. Once the jet is switched on, heavily pressurised water is pushed into the pipes to break down all blockages for a comprehensive drain cleaning job.
Tree roots grow easily inside pipelines and catch food waste, grease, toilet paper and oils. Eventually, this will start to block your drain and the pipes back up. Tree root removal requires specialised technique and professional tools that is best left to a qualified plumber. We start by using a CCTV camera to locate the root and identify the extent of the damage it caused. From there, we cut the roots and reline or replace the pipe. In some instances, we may have to dig but this is the last resort. We may even use a high-pressure jetter to get rid of any remaining tree debris inside.
Why GSM Plumbing for Your Castle Hill Property
We are qualified, licensed and insured to take care of all drain blockages, no matter how simple or complex. We have helped thousands of Castle Hill residents with their blocked drains over the years and have the experience to help you with your property.
We are available 24/7 to take care of any drain block emergency and come equipped with the right tools to manage the issue immediately. Being local to Castle Hill, we are familiar with drain emergencies and can take care of your problem quickly and effectively.
We are transparent and upfront with our pricing – giving you a fixed quote with no hidden fees whatsoever. You have complete peace of mind knowing how much you will need to pay without worrying about any hidden surprises.
If you're looking for a blocked drain specialist in Castle Hill or surrounding areas, give our plumbing company a call today.
How Does a Drain Get Blocked?
Most drains get blocked when dirt, food waste, oils, grease, soap scum and hairballs collect on the walls of pipes or tree roots growing inside, Over time, this accumulates and obstructs water flow, eventually backing up the pipe and causing a blockage.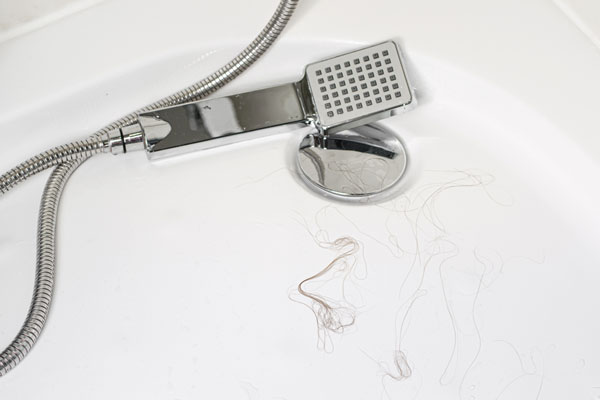 Shower & Bathroom Blockages
From soap scum to chunks of hair to toilet paper to baby wipes, your shower and bathroom drains are prone to blockages. Hair and baby wipes are particularly problematic issues we have seen over the years in Castle Hill since they don't disintegrate as easily. Never flush baby wipes down your toilet. They should only be disposed of in regular trash.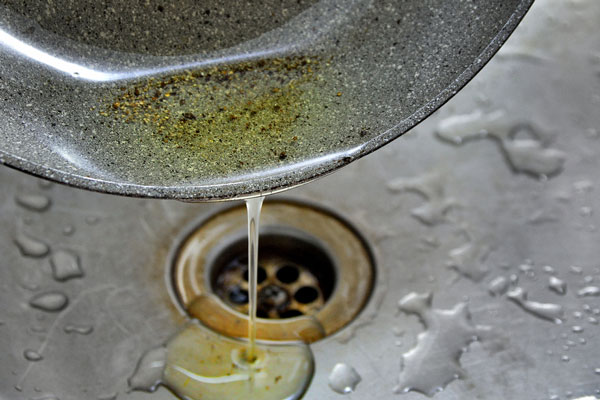 Grease, oil and food waste build-up are common reasons for blocked kitchen drains because most people tend to get rid of excess cooking waste in their kitchen sinks. Any fatty substances like grease and oil will stick to the inside of your kitchen points and keep building up until no more water can flow through, causing the pipe to back up and block your drain.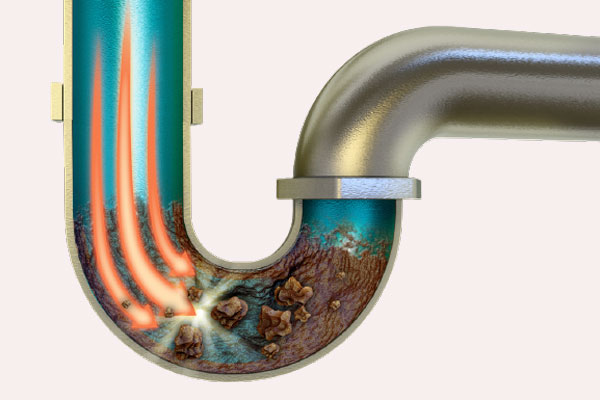 Apart from baby wipes, we've seen issues like nappies and sanitary items causing blocked drain problems. These types of objects should never be flushed and can easily be placed in regular trash. In some instances, children might flush small objects and toys down the toilet too. This is another common issue that eventually results in blocked drains.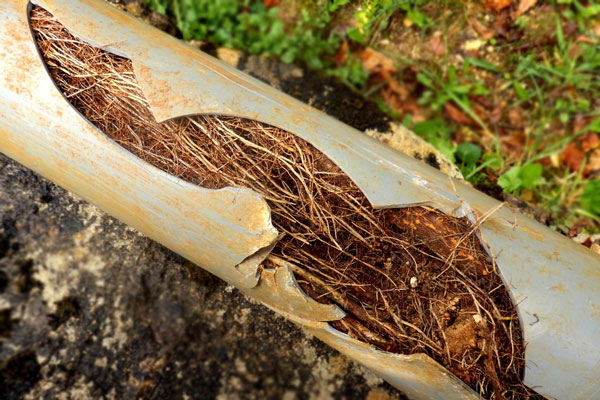 In Castle Hill, the Hills District and across Sydney, we often find tree roots extending into the piping system causing blockages. This obstructs water flow and results in serious pipe damage. Clearing tree roots is complex and requires a combination of tools like in-drain CCTV cameras, trenchless relining technology, excavation and a high-pressure water jetter to find and clear the roots.
Signs That You Have a Blocked Drain
Strong Smell Coming from Sinks
Grease and oil debris can coat the insides of your drains and start trapping food waste that should ideally be flushed out, which causes nasty odours. If you notice strong foul smells coming from your sinks, it may be a clear sign of a blockage or imminent one.
Another common sign of drain blockage is a sink draining slower than usual. This is because of a build-up inside the pipes that prevents water from flowing out easily. Eventually, water flow will stop completely and start backing up into your sinks, toilets and showers.
Gurgling Noise Coming from Your Drains
Gurgling noises are a sign of a partial block within the drain. This will turn into a complete block if left unchecked. Food debris, soap scum, hair, grease and oil can all start to coat the inside of your drain pipes and build up slowly, which is why the gurgling sounds will start.
Harmful Effects of Blocked Drains 
Blocked drains can be incredibly frustrating, but did you know there could be some harmful effects too?
If your drain is blocked, there's a chance that contaminated water could start to seep back up into your home. This water may be full of bacteria and parasites that can cause serious illness if you come into contact with it. Blocked drains are also ideal environments for mould and mildew to grow, which can cause respiratory problems if you're exposed to them.
Clogged drains also cause water to accumulate in pipes and remain stagnant, resulting in unpleasant odours and making your home almost unbearable to live in.
With water no longer flowing freely because of a blocked drain, there's a good chance it could be channelled to areas around your home, or it can even cause pipes to burst. Ultimately, all this can lead to a weakening of your home's foundation. If you don't tackle this problem in time, your home could be at risk.
So, if you have a blocked drain, it's important to take care of it as soon as possible. Not only will this save you from potential health risks, but it could also save your home. GSM Plumbing has you covered at every step of the way.
Blocked Drains Castle Hill Experts
GSM Plumbing has served residents and businesses in Castle Hill and surrounding areas for over 25 years. We are familiar with the local area and its unique challenges regarding plumbing issues like blocked drains.
As a plumbing company that has a lot of experience over the years, we have a methodical system in place to deal with your blocked drain. Using advanced technology such as CCTV drain cameras and water jetters, we can clear your blocked drain issues quickly and effectively, allowing you to go back to your normal life with minimal disruption.
We also know that blocked drain problems can start at any time of the day or night, which is why we have a team of experienced and qualified plumbers who are available 24/7 to attend to your needs. We take pride in our reputation for providing quality workmanship and are confident you will be thoroughly satisfied with the job we do.
If you're looking for blocked drain specialists in Castle Hill and surrounding areas, look no further than GSM Plumbing.
Testimonials
Very responsive and professional service. Thanks Greg and keep up the good work!
Sukhdev Singh
03.05.2021

We have GSM on speed dial-Would not use anyone else. Prompt service, professional, good advice, very tidy, cost effective, rescued us from plenty of DIY disasters, listen to what you want done, they do not over-service, very safety aware, especially with my kids about. A rare find!
Renae Cole
01.19.2021

Greg did a good professional job with regards to the water efficiency in the house and would certainly recommend him.
Dan cash
01.07.2021

The repairs have been completed. I was very happy with the service received from Greg and Patrick. I received an estimate of cost and they came in under budget. They were punctual, very pleasant to deal with and I would certainly recommend their services very highly.
Helen Keys
12.24.2020

Greg is very professional and I have used his services for a number of years now.
Obi Wan Kenobi
12.15.2020

Frequently Asked Questions
How do I know when my drain is blocked?
If you notice your toilet or sinks getting backed up, or if foul odours or gurgling sounds come from your sinks, then it could be a sign that your drain is partially or completely blocked.
How do I prevent drains from getting blocked?
While some issues like tree roots may be inevitable especially if your house is surrounding by dense vegetation, you could try to minimise the problem by making sure food, grease and oil debris are disposed in your food trash and not down the sink. Also, make sure things like nappies and baby wipes are not flushed down the toilet. These small efforts will reduce blocked drain issues.
Can tree roots cause blocks in my drainage systems?
Tree roots are a common reason why drains get blocked, especially in the Castle Hill area with so much greenery around. Roots pose a threat to underground pipes because they only need the smallest entry point before snaking through and growing inside – ultimately causing the block. Roots cannot easily be removed when they are inside pipes, which is why you will need a professional plumbing team like GSM Plumbing to help you with your problem.
How much will it cost me to unblock the drain?
The cost to unblock the drain will depend on the extent of the problem. We will first inspect the situation and give you an upfront, fixed price quote that is completely transparent. You know how much to pay from the start. For any quotes during business hours, we do not charge call-out fees.
How long does unblocking the drain take?
This depends on the extent of the blockage. An experienced drain plumber like GSM Plumbing uses advanced tools and technology and can typically get the job done in roughly 1-2 hours. Some jobs are quicker than others. An easily detectable and accessible blockage could even be taken care of within 30 minutes. Our plumbing team will assess the problem and clearly communicate how long the job will take.
Make a Booking Or Get a Quote
Get a Plumbing Quote Today